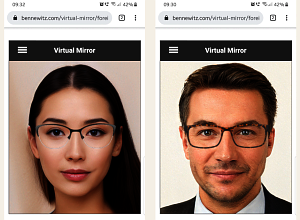 Virtual Mirror HTML5 can be used together with every E-Commerce-System, for example on Magento, BigEcommerce, Drupal-Ubercart, Joomla-Virtuemart, Shopify, ShopWired, OpenCart, PrestaShop, WordPress, Woocommerce and more. Among other things this software has automatic face and pupil recognition in real time and also facial shape recognition. The detection feature takes care that the glasses are placed in the face correctly.

It simply works for desktops, notebooks and for mobile devices. Arabic, Dutch, English, French, German, Greek, Hebrew, Italian, Portuguese, Romanian, Russian, Slovenian and Spanish translation is built in. The language can be changed on the fly depending on the language of your website and the location of your customers.

You can also pass the total width of the frame in millimeters to Virtual Mirror from the database. This way, the frame is internally scaled against the client's face. This gives the customer a first overview of whether the frame is perhaps too small, too large or fits.

You need at least one *.jpg on white background for 2d. Transparency, cropping, scaling and overlaying are done by Virtual Mirror itself. For 3d you need *.glb or *.gltf. A good example for 2d can be found at https://glasses2you.co.uk
Even though the graphical user interface of Virtual Mirror is very simple, the functionality is not. For this reason, automatic installation is not useful. However, the initial installation, the setup, updates and support are included and will be done by our small team remotely. We also provide a secure download and installation guide upon request.

There is a lifetime license and also a cheaper license for one year. The license is always valid for one domain. The pricing scheme is simple and unchanged since many years: 495.00 EUR costs a lifetime license, 285.00 EUR costs a license for one year. There are no further or additional costs. PayPal will process the payment – you will be re-directed. You do not need a PayPal account for this. However, if you have a PayPal account, you will receive buyer protection.
Buy a license for Virtual Mirror without any time limit: 495.00 EUR

Buy a license for Virtual Mirror with a validity of one year: 285.00 EUR

The licensing is up to the programmer (me). 😉 Usually we issue only one up to four licenses for each country.